DANIEL LIBESKIND and TIM RENNER talk about Berlin – moderated by Kristin Feireiss and Alexandra von Stosch. Regardless of the extraordinary efforts and achievements of Berlin over the last 25 years, the city is facing new challenges today. Not only does Berlin have to continuously compete with other metropolises; it also must rediscover its own unique identity, which currently seems to be faltering.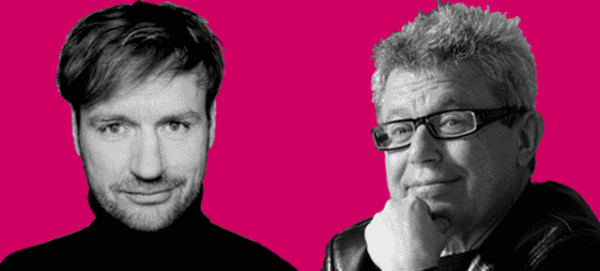 DANIEL LIBESKIND and TIM RENNER talk about Berlin
moderated by Kristin Feireiss and Alexandra von Stosch
Date: Monday, 29 June 2015
Start: 7:30 PM
Doors open at: 7 PM
Place: ANCB The Aedes Metropolitan Laboratory, Christinenstr. 18-19 (Pfefferberg), 10119 Berlin

Berlin still lives off its former myth, which attracts tourists and creative people from all over the world. However, there is an increasing concern among Berliners about the serious mismanagement of major building projects, doubts in the city's socio-economic competence; and in Berlins established cultural scene a new sense of uncertainty and fear came up with the appearance of the new State Secretary for Cultural Affairs, Tim Renner. Headlines in German newspapers like "Kampf der Kulturen" (Clash of the Cultures), BZ, and "Sieg der Verwaltung" (Administrative Victory), SZ, express a new combative phase in the reconfiguration of Berlin's future cultural and societal orientation.
How should the Berlin of tomorrow look like? Where is the spirit for new visions? How will Berlin continue to distinguish itself from other metropolises in future? Can Berlin again play a pioneering role in culture, society and urban development, and how can urban fabric and its design stimulate these processes?
Daniel Libeskind and Tim Renner will talk about their positions on the state of Berlin, now and in the future – moderated by Kristin Feireiss, Aedes Architecture Forum and Alexandra von Stosch, Art Historian and Cultural Manager, both Berlin.
Daniel Libeskind: Architect, architectural theoretician, musicologist, lateral thinker and artist. Libeskind became famous worldwide with the Jewish Museum in Berlin (1999). He is a globally active architect and has currently several building projects in Berlin. During the 1990s Libeskind lived in Berlin for nearly a decade and remains connected to the city both affectionately and skeptically. Today the architect lives in New York. Libeskind's most ambitious current cultural project "One Day in Life", commissioned by the Alte Oper Frankfurt, is a 24-hour music event in several public places in the City of Frankfurt in May 2016.
Tim Renner: Since 2013 State Secretary for Cultural Affairs in Berlin. From 2001 to 2004 he was CEO of Universal Music Germany. Renner was named a "Global Leader for Tomorrow" by the World Economic Forum in 2003, since 2004 he has been CEO of Motor Entertainment Group and was appointed as professor at the Pop Academy Baden-Württemberg in 2009. Renner has authored several publications, including the book "Digital is better". Tim Renner advocates an internationalized, cross-genre culture and upholds the belief that societal change must also lead to new movements in the cultural sector.
The event will be in English. Admission is free. Please register at reply@ancb.de. We look forward to welcoming you!
For more information see ANCB – Aedes Network Campus Berlin